Airventure 2018 is in the can. Our new partners Reiff and Steve flew the Fox to Airventure for the first time, relatively uneventfully (the airport was closed early, and then overrun with arrivals due to weather), and got a prime parking spot on "Velocity Row", or as the EAA calls it "heavy homebuilt parking". We're in the top left of the Velocity's, next to Subway. More pics to come soon!
Our beloved XL/FG is, as of August 1 2017, in the hands of a partnership of Velocity-loving folks in Dayton, OH. We will maintain a minority share and keep our hands in the Velocity community.
This site is all about what is great about this airplane, but here are the sales materials.


Fully loaded cross-country cruiser… she empties the FBO everywhere she visits… ask the factory, they know the build and flying qualities of this airplane. Cruise 175 kias (180-195 ktas) in style and comfort. 1,000 nm range and 5 hour's endurance. Fly now for the price of the parts alone (see table below) and save yourself 5-8 years of building!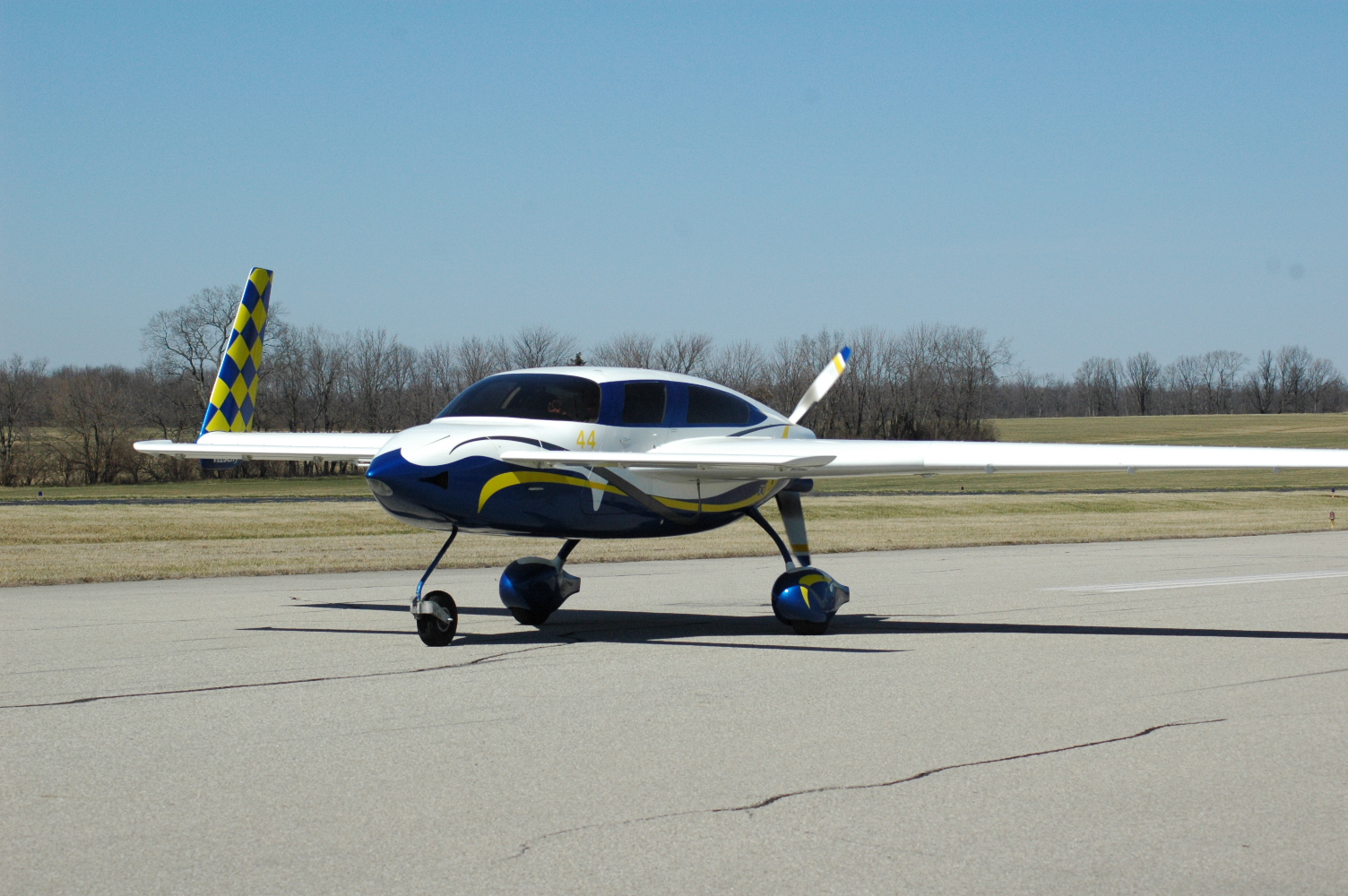 This is a fast, clean, modern aircraft that will be nearly the fastest at your airport. Ask around, folks know this airplane, and check out the pictures below. She really cruises 170-180 kias, has on-board traffic, weather, moving map, WAAS GPS, EFIS and backup instruments, and tons of storage space. People will be shocked at how much stuff you brought with you. You'll need to let your friends leave 10 minutes before you when flying to breakfast! 240 Hours on engine (since rebuild) and airframe.
4 Leather Adjustable Seats with heaters and temper foam by Oregon Aero

All Glass Flight System by Grand Rapids Technology – GRT HX Dual Screen Dual AHRS/Magnetometers

3 Screen EFIS – 2 for Pilot (6.5") and 1 for CoPilot (8.4")

Fuel Sight Gauges and Capacitive Gauges

PS Engineering PS8000B 4 place Intercom/Audio Panel

ADS-B Compliant In and Out

Back-Lighted Overhead Switch Panel

Aux Audio in for iPad/MP3 input in panel

ADS-B Weather Display on EFIS

VP-X Electronic Circuit Breaker System, integrated into EFIS

Front Seats feature in headrest DVD screens for rear seat passengers

Audible Warnings to Intercom

Approach Fast-Stack Instrument wiring system

10 Disc DVD/CD player for in flight music or entertainment

Standard Aviation ground power plug for jump start or battery charging

Trio Pro dual axis AutoPilot – Independent head, but can slave to the GTN-650 or EFIS, with AutoTrim

APRS tracking system on-board continuously transmit speed, location, altitude and heading via Ham Radio

Full backup instrumentation – Airspeed, Altimeter, Artificial Horizon, Tach, fuel level, Slip-Skid, Compass

Factory built fast-build wings and fuselage – straight and fast!

Heated Pitot tube for IFR

Whelen Nav/Strobe pack for night/IFR

Dual B&C Alternators with external field regulation and over-voltage protection (60A primary and 20 A on vacuum pump pad)

Leather Trimmed Interior with Embossed Velocity logo on back panel

MT Constant-Speed (hydraulic) Propeller

Billet aluminum nose wheel fork upgrade

Velocity factory Cleveland brake upgrade

Velocity factory toe brake upgrade

Velocity factory rain/weather cover with custom N44VF embroidery

Sky-3D GoPro camera mounts on each wing for in-flight video
Video of Scott Swing
– THE Velocity guy – flying N44VF with Elizabeth before paint and interior, and before changing to the constant-speed propeller.
Audio Highlights Only
Pictures of "44 Victor Fox" – Click on picture for a bigger version, click again for full-size.
Current pictures as of July 2016, washed up and ready for Airventure in Oshkosh. Click for a bigger version (click again for a much bigger version).
Fly now for the cost of the components alone and save yourself the aggravation of 5+ years of building.
| | | |
| --- | --- | --- |
| Component | Slow Build | Fast Build |
| Kit | $51,000.00 | $51,000.00 |
| Cleveland Brake Upgrade | $ 1,600.00 | $ 1,600.00 |
| Toe-Brake Conversion Kit | $ 2,000.00 | $ 2,000.00 |
| 300 HP Lycoming Engine | $ 35,000.00 | $ 35,000.00 |
| Engine Installation Kit | $ 6,000.00 | $ 6,000.00 |
| Dual B&C Alternators (60/20) | $ 1,000.00 | $ 1,000.00 |
| Dual Plasma III Electronic Ignition | $ 3,300.00 | $ 3,300.00 |
| 3 Blade MT CS prop/spinner | $13,112.00 | $13,112.00 |
| CS prop governor | $ 1,450.00 | $ 1,450.00 |
| Leather Interior | $ 5,000.00 | $ 5,000.00 |
| Dual AHRS 3 Screen GRT HX EFIS | $ 9,800.00 | $ 9,800.00 |
| PS-8000 Audio Panel | $ 1,500.00 | $ 1,500.00 |
| GTN650 IFR Nav/Com/GPS | $ 10,000.00 | $ 10,000.00 |
| SL30 Nav/Com | $ 3,000.00 | $ 3,000.00 |
| GTX330ES ADS Transponder | $ 4,000.00 | $ 4,000.00 |
| Fastbuild Wings | | $ 15,000.00 |
| Fastbuild Fuselage | | $ 10,500.00 |
| Whelen Nav/Strobes | $ 800.00 | $ 800.00 |
| Backup Instruments | $ 2,000.0 | $ 2,000.00 |
| Heated Pitot | $ 1,000.00 | $ 1,000.00 |
| Trio Pro dual axis autopilot | $ 3,000.00 | $ 3,000.00 |
| Xenon Landing Light | $ 1,000.00 | $ 1,000.00 |
| Radenna SkyRadar ADS-B Receiver | $ 900.00 | $ 900.00 |
| Paint | $ 5,000.00 | $ 5,000.00 |
| Total | $161,452.00 | $182,692.00 |
| | | |
| Dash 5 Option | $ 4,000.00 | $ 4,000.00 |
Older pictures from our Blog, at various stages of construction
Posted By: Brett FerrellMonday July 11th, 2016 at 9:41 AM
Categories: Sold............................. Tags: Airventure Blog EAA Oshkosh