I'm now "officially" a Velocity pilot. Although I've been 'signed off' for awhile, the insurance wanted more dual time, and I finished that tonight with Pete, for a total of 15 hours dual Velocity time (5 at the factory, 5 in N44VF with John from the factory, 2 with Dave Bertram in our plane, and 3 with Pete in our plane). I have a lot to learn and many experiences to gain, but I feel pretty comfortable in the airplane now…
We did another lazy loop around Dayton International's airspace to work off the time, playing the systems while we went. I wanted to get Pete comfortable with the Grand Rapids EFIS, so he can help with my Instrument Training, entering the approaches and frequencies, and changing the display on his screen, and check out the VOR tracking. An interesting note, you have to configure the EFIS to use the right knob to set the OBS, which I hadn't done previously, which was keeping us from spinning the OBS while trying to track a VOR.
Also of interest, our first stop of the night was a Greene County, home of our buddy Bill Stockman's Velocity, and as I turned final, there he was about to take off for a flight. Very cool! It gave Pete a chance to check out his airplane as he took off behind us and circled off towards Dayton. Big fun. We also did touch-n-gos at Urbana, Piqua, then back to Hamilton and home.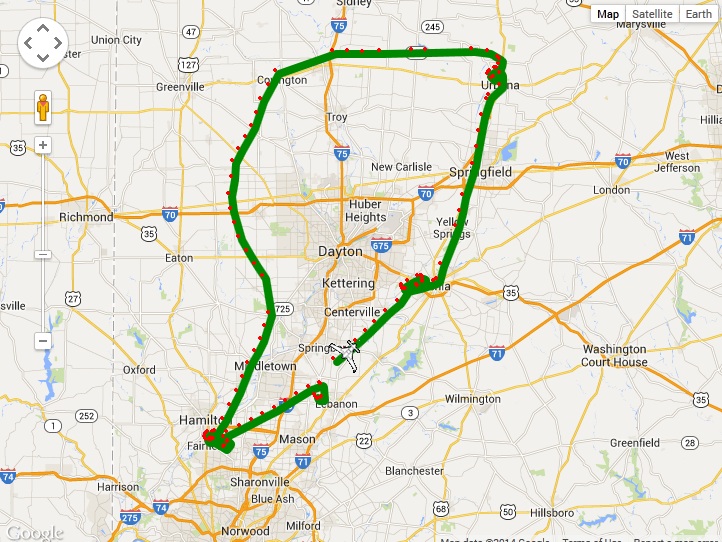 Posted By: Brett FerrellThursday July 17th, 2014 at 9:21 PM