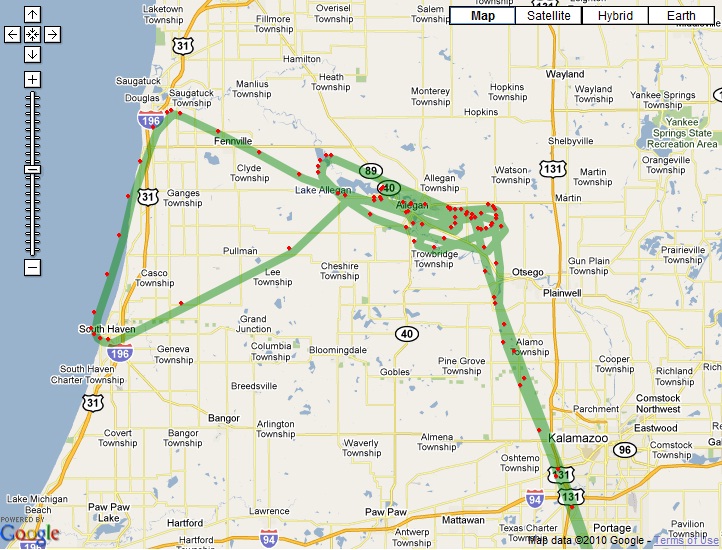 We like to call our buddy Andy Millin the Mayor of Velo City. He's just that kind of guy, he knows everybody and they all like him. The kind of guy used to being on the lending side of a favor. We'd been promising to fly up to visit for weeks, and always came up with a reason we couldn't make it happen. This Saturday was to be the exception.
I'd been out of state all week, and wasn't really up with the forecast, but Saturday dawned a bright, beautiful 'sever clear' day, well, aside from the haze, but not a cloud in the sky and promise of more of the same for the whole of the day. We simply had to fly somewhere, and put some miles under our wheels. We have a lot of flying we want to do this fall, and to feel comfortable we need to log some hours. A quick call to Andy and we were packing an overnight bag in case we got stuck in Kalamazoo or elsewhere. A standard briefing revealed we'd have a tailwind on the way up, so we bought some gas and headed out.
Beth still isn't' quite up to the task of running to the lean side of peak. She leans too slowly, and the CHTs build on her, and then she feels she needs to enrichen the mixture to cool them off. But we ran nicely to the rich side of peak and we getting a touch over 180 kt ground speeds even so. We got flight following and had a series of orderly hand-offs from Dayton to Fort Wayne to Kalamazoo, and in just over an hour we were cleared for the VFR approach to Allegan. Allegan has a decent bump on the approach end of 29, and sizable gully, so when the wind whips in from the south you can get a nasty burble – and we did. We aborted the first approach, but nailed the second pass no problem, rolled up and said hey Andy and company.
After showing the Ponozzo's the airplane (Andy had invited them out as they're building the FG-5 version), we went and had lunch at a fabulous little diner where Carlos from GRT joined us. He was kind enough to look over our dual Horizon system, so we wanted to give him some quality time behind the stick, so after lunch we ran back to the airport to give out rides. Carlos went first and performed some more checks on the got in a little bit of flying. When Andy's turn came around he know what he wanted to do. Check out the APRS track and you'll see that he wanted to impress beach goers from South Haven to Saugatuck with our UFO!
After the rides, it was getting late, and although Andy graciously invited us to stay, I wanted to get home. First, I would like to make these sorts of trips regular day trips, and second I wanted to have Sunday to get ready for my conference in Vegas since I'll get home and immediately need to get ready to head out for vacation to Cape May. It's a busy period for me, and I wanted to get home even though we knew we'd be pushing the limits of day time flying. We knew we could land short and visit Beth's parents in Piqua anyway, but that's a different story for another time.
Check out the great pictures that Andy took here.
Posted By: Brett FerrellSaturday August 28th, 2010 at 8:36 PM