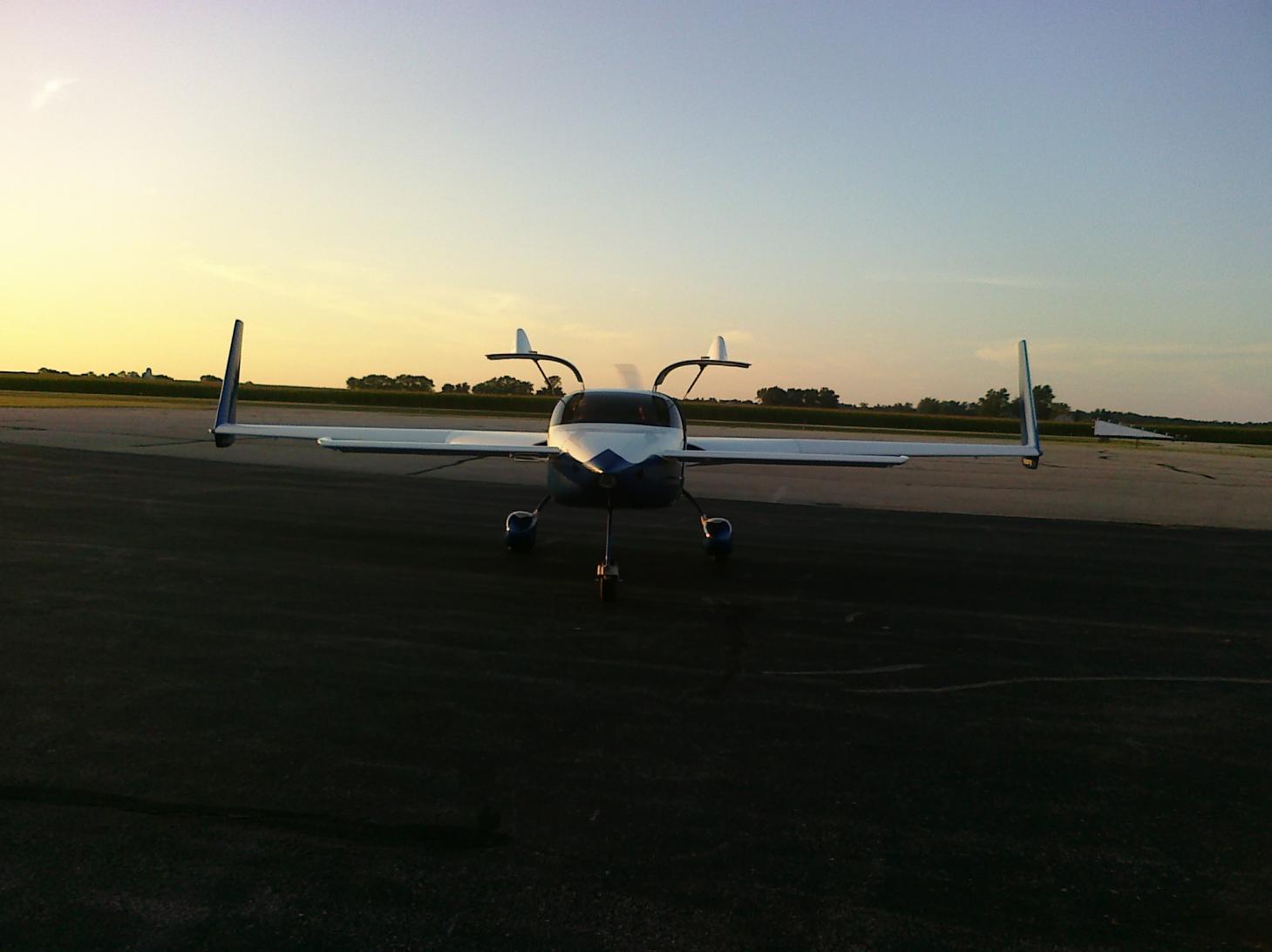 Is it bad luck to fly on Friday the 13th? Maybe, but we did it anyway. We'd planned on getting an early start and fly to Dayton to spend the night with Elizabeth's folks and have dinner with them and her Godparents, Dave and Jeri. Dave introduced Beth to small airplane flying as a youngster, and as it turns out the seed was planted, so she was looking forward to taking him for a ride.
We, in fact, got off to a late start because of Beth's farewell's to Toyota. Everybody wanted to say good bye to her, and it just took a lot longer to get out than she'd planned. But launch we did into the terrible August haze over the Cincinnati-Dayton metroplex, with flight following, clipping along at 4,500′ and a 165kias easy cruise with just a little bumpiness. The 45 minute to an hour car drive was accomplished in 13 minutes as we entered the left downwind for runway 08 at Piqua Hartzell field. It turns out some of the fine Hartzell folks were on their way out for a demo flight in a Cirrus and said they would put us in one of their hangars overnight if we were still at the airport when they got back. How nice.
So, when we rolled out we had a slight vibration. I shrugged it off, because we were on the brakes a little hard – Piqua's taxiway doesn't run the whole length of the runway, and we were trying to avoid the back taxi (which we happily did). We taxied in and waited for Beth's folks to arrive, and showed them the airplane. In the meantime the Cirrus returned to the field, and they waited for us to put the Fox in their hangar. But, Beth wanted to take her dad for his first ride in the Velocity. This is where our cautionary tale begins. When the airplane talks, Listen! As much as I tell myself that, I still find times where I don't hear it.
When Beth taxied out, the plane was pulling a bit, but she didn't think much of it. On the takeoff roll it was pulling a bunch, and riding the opposite brake to keep it lined up made the takeoff roll take forever. They flew around the pattern and did a low, high-speed pass, and then came in to land. When they touched down it was clear something was very wrong – a loud and angry rubbing, vibrating sound. Fortunately I had my handheld, and Beth told me she thought she had a sticking brake. Then she reported that they were stuck on the runway, then that they had a flat tire.
A funny story. I just ordered tires. I didn't get any tubes. I thought, we wear tires out, but what are the odds of needing a tube? Pretty slim, right? I never needed one before. There's a saying at work, actually written down, that the spare not ordered is always the one most desperately needed. It's a truism, it turns out. Next we're getting offers of help from the many kind folks at Hartzell, an air tank, mechanic on his way over, etc. I was sure that the air tank was a waste of time, that the tube must have gotten pinched when we rotated the tires. But sure enough, a little air and up she went. Beth jumped in and taxied her to the hangar, and we retired for the night.
Next morning the tire still held air, so we headed home instead of going north. We'd talked of heading to Michigan, but I really wanted to change that tube. And the weather was iffy. A quick flight home and we were in the pattern with an ugly, gusty crosswind. Beth went around the first time determined to set down gently on the suspect tire. The second pass wasn't a lot better, and not thinking the third trip was going to get any easier, she set her down firmly at home. The tire held, and even after pulling it off the plane, seemed undamaged. In retrospect, it was probably our pressure-sensing valve caps, but we changed the tube anyway. All in all, it was a really fun trip and we learned a little more about our airplane. I've got a couple of other pictures on my camera (the above is from my phone) that I'll post when I retrieve it from the airport.
Posted By: Brett FerrellSaturday August 14th, 2010 at 8:19 PM