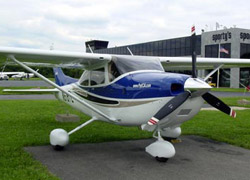 Well, for weeks I've been trying to get my high performance check out with Aviator's Flight Academy/Blue Ash Aviation, but they just don't have enough instructor time available to get it done. Luckily Elizabeth finally recommended I check out Sporty's, and it turns out they too do have a Cessna 182 for rent. Also, they have a very focused curriculum for teaching and awarding the endorsement in one day, about an hour of ground and an hour and a half of flight time. I was paired with "Gold Seal" CFI Charissa Dyer-Kendler, who is a very nice lady and excellent instructor. Happily their 182 also has an EFIS, so it was a nice opportunity to get some additional flight time behind a glass panel. The ground portion proceeded very smoothly, having built my own airplane I had a pretty good feel for how the systems worked. We took a quick break, and then headed to the airplane.
The 182T was virtually new compared to everything else I've rented, and it has a very tall instrument panel. I found the electric trim pretty slow to respond, so about halfway through the flight I decided to just use the trim wheel. Overall the power didn't seem to affect me much, but the plane is very heavy and requires more input than I would expect and so again I as a little behind the airplane's needs in terms of input, not so much the speed. I'm also still surprised how much throttle it needs to capture the glideslope on final once it really starts to slow down with the prop in full. I would give it what would have been a very large power input in the Warrior only to find that it needed that much again to do what I wanted. Finally the high wing round out and flare were a little troublesome, but I felt much better than when I flew with Cameron earlier in the month. There were a couple of parts to that, I think. One, Charissa better about talking me through the speeds and power settings, etc., and secondly this airplane was fuel injected (no carb heat) and we didn't work the cowl flaps. That gave me a bit fewer things to need to remember on downwind, which helps more than I would've expected.
Net, I now have the endorsement, and can begin just preparing to fly the Velocity. I think I try to flew a few different types of airplanes to sharpen my skills, particularly rudder skills, and probably get a Complex Endorsement in the Arrow with Pete. Stay tuned.
Posted By: Brett FerrellSaturday March 30th, 2013 at 11:33 PM