I've lost my mind, and bought a SECOND Velocity kit. I know what you're thinking, who could possibly need a second experimental airplane?? But, I was sitting around the house one day and thought, 'hey, if it's good enough for me, why not Aubrey' (my cat), so….
My 'Second' Velocity Kit
We bought a 1.46 scale RC model from EAM (www.RChomebuilts.com). OK, I'll admit that it was a lot like waiting for Jesus to return before we actually got the model (we ordered at Osh Kosh, many many moons ago). But, Cleve and the folks at EAM were, in my opinion, up-front when they had issues to resolve, and seemed very willing to refund our deposits. We elected to wait, and I'm glad that we did. This baby has a whopping 80″ wingspan. Most impressive.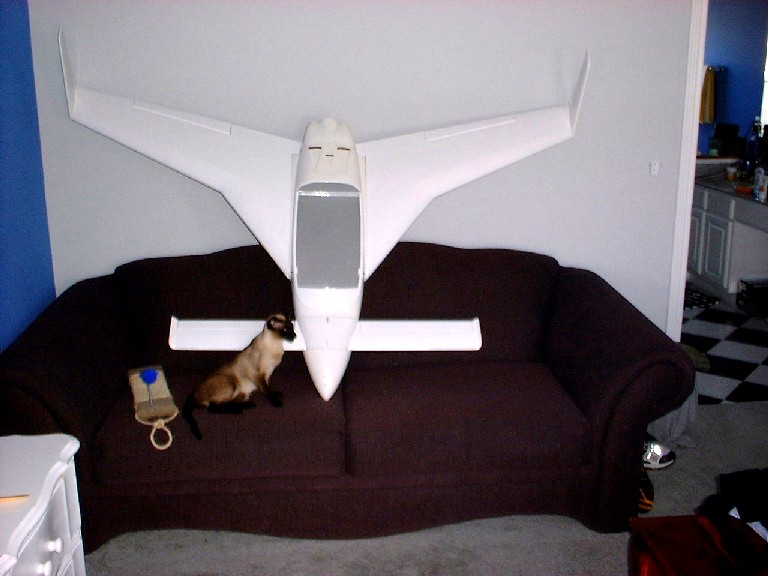 Um… Dad, where's the seat?…
We've decided to not install the engine, prop, and RC servos at this time. I'm just not willing to risk the model yet, nor spend the money while we're trying to get the 1:1 scale flying. 😉 The EAM folks have some cool training software for the PC, though, and we very well may take this bird flying some day. If you'd like a preview of what that'll look like, check this out.
| | |
| --- | --- |
| I've had wings in the foyer before, but never both at the same time | Too Cool |
| It's got a steerable nosegear, even the "full size" Velocity doesn't have that | No motor or prop, sadly |
| I don't know if it's art, but I like it! | What else would you put on your wall? |
| | |
| | |
| | |
| | |
Posted By: Brett FerrellTuesday March 29th, 2005 at 12:24 AM